Discover more from About The Adventure
The newsletter that starts with a question - to encourage a creative, adventurous approach to career change.
Career change - how can you break the cycle and get more energy?
The newsletter that starts with a question
Welcome to the fifth issue of About The Adventure newsletter, and to new subscribers! It's lovely to have you here. Last week I spent some time with my family on short walks as my dad doesn't really enjoy big hikes, I cooked them a meal and we enjoyed plenty of cosy coffee chats. It was so good to see them again as they live in Norfolk and I hadn't seen them since January. This week I'm feeling refreshed and ready to begin writing and sharing my latest newsletter. The title is taken from my latest blog interview with Andy Darnton who asks three questions to take away and think about. His interview is featured in this issue so don't miss that!
Here is your next coaching question - have you been scribbling any thoughts down so far? In previous issues I asked:
"What's critical to resolve right now?"

"What impact is this having on your life?"

"What do you know you've been doing that's prevented you from resolving this?"

"What's this cost you in the past?"
To follow on from these, my next question for you is:
What's the impact now?
If you can right now, take your thoughts outside before you put pen to paper. Then just write and let it all flow on the page. As always, you're very welcome to send me an email with some thoughts, or to let me know what these questions are revealing for you. It will be kept confidential and if you'd like some more questions I'm happy to send them over to you. My email is: sarah@sarahventurer.com
If you're not yet a subscriber and you'd like to receive a question on a (more or less) weekly basis, please press the button below.
---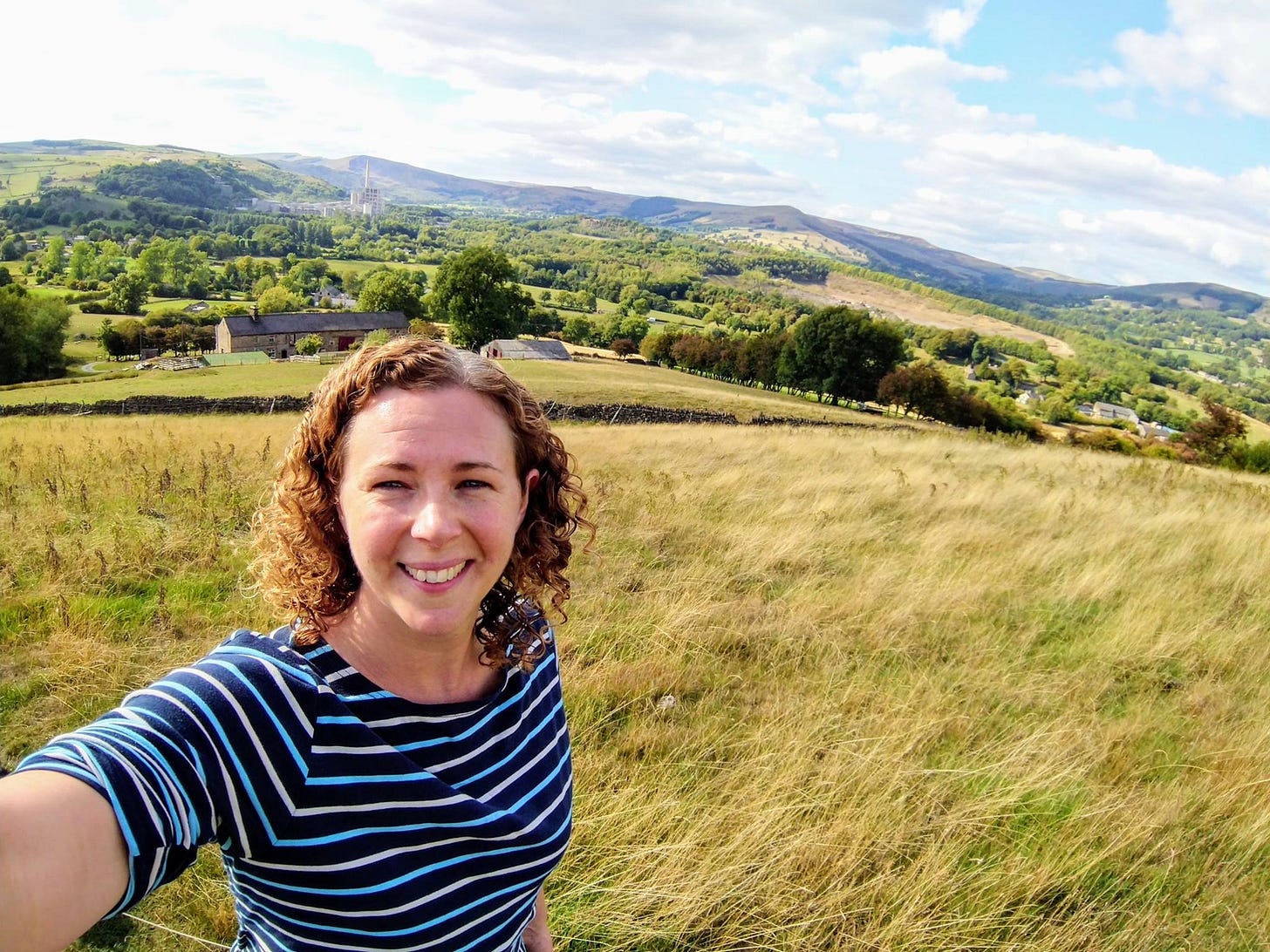 "The idea that just wouldn't go away"
Episode four of About The Adventure podcast is an interview with Anna Caig who offers media training workshops and communications consultancy for writers and other creatives. She started Anna Caig Communications this year (2020) following 17 years of working in communications. She also tutors on the MA Journalism course at The University of Sheffield and writes crime fiction. Her current work in progress has been shortlisted for the CWA Debut Dagger prize.
I first met Anna via our mutual friend - writer and coach Joanne Burn, who I interviewed on my blog last year. We all met up for a trip to Scarthin Books and I remember Anna telling us about her business idea on the way there which we were all very excited about. Since then, Anna has made it happen and I couldn't wait to ask her all about it! You can see my full list of questions on my blog post as well as links to Anna's blog and social media accounts.
Tune into this podcast episode to find out why Anna has started her own training business to help writers to build their brand and reach more readers, what challenges she has come across so far, and where she goes for creative inspiration.
---
Transport me into nature - a collaborative playlist
A couple of months ago I had an idea to create a collaborative playlist with music that transports me into nature. I've added a few tracks and I'd really like to invite you to listen and to add any music that reminds you of being outside or includes sounds from nature. Of course there will be lots of different music tastes in the mix, so it's an opportunity to share and discover new artists and sounds.
---
Interview feature
Yesterday I posted a brand new blog interview with Andy Darnton who in 2017 decided to put his career as a lawyer behind him for a simpler life. His freelance work as a technology consultant supports him financially and gives him more freedom to pursue his love of nature and spending time outdoors, particularly in the Lake District. He's working towards a Mountain Leader qualification and writes a blog about his adventures, work-life balance, gear reviews and outdoor challenges.
I first came across Andy and his blog via Twitter, where he has been really supportive and encouraging of my podcast. I was interested to find out more about him after reading his career change story on his blog, so I invited him to be interviewed here.
"As the honeymoon period wore off, the realisation that I'd chosen the wrong career hit me. Not being one to give up easily, I spent the next 10 years giving it a good go, thinking the situation might improve as I climbed the corporate ladder."
I asked Andy why he decided to leave a job that he'd studied and worked hard for, what expectations, worries or fears he had about making a career change and if they matched his experience, what have been the very clear benefits of his decision, and much more. At the end, Andy asks you not just one, but three questions to take away and think about!
---
More than a newsletter
As well as sending you questions and content, I'm thinking about ways to create a community through this newsletter, bringing people together who share the desire to explore alternative careers.
Here are a few ways to get involved:
Make suggestions for future discussion topics - what questions are you asking yourself?

Put yourself forward, or someone you know, to be interviewed on my blog or podcast if you have a career change story that you'd like to share.

Have a virtual brew with me - share your thoughts, ideas, worries, frustrations, or just have someone to talk to who will listen.
I've written about why I started this newsletter and how I want to make it unique in "Meet Our Members" on the Sheffield Creative Guild website.
---
Coaching walk of the week
On Sunday last week I packed a bag full of warm layers, waterproofs, a borrowed camera, my OL1 map and compass, and a big lunchbox which included snacks that my mum had left with me. I headed out without a definite plan as I wanted to reach local places that I hadn't explored before and to open up the map with a fresh perspective. The first paths I took were familiar, but when I reached Edale Cross my boots were on new territory.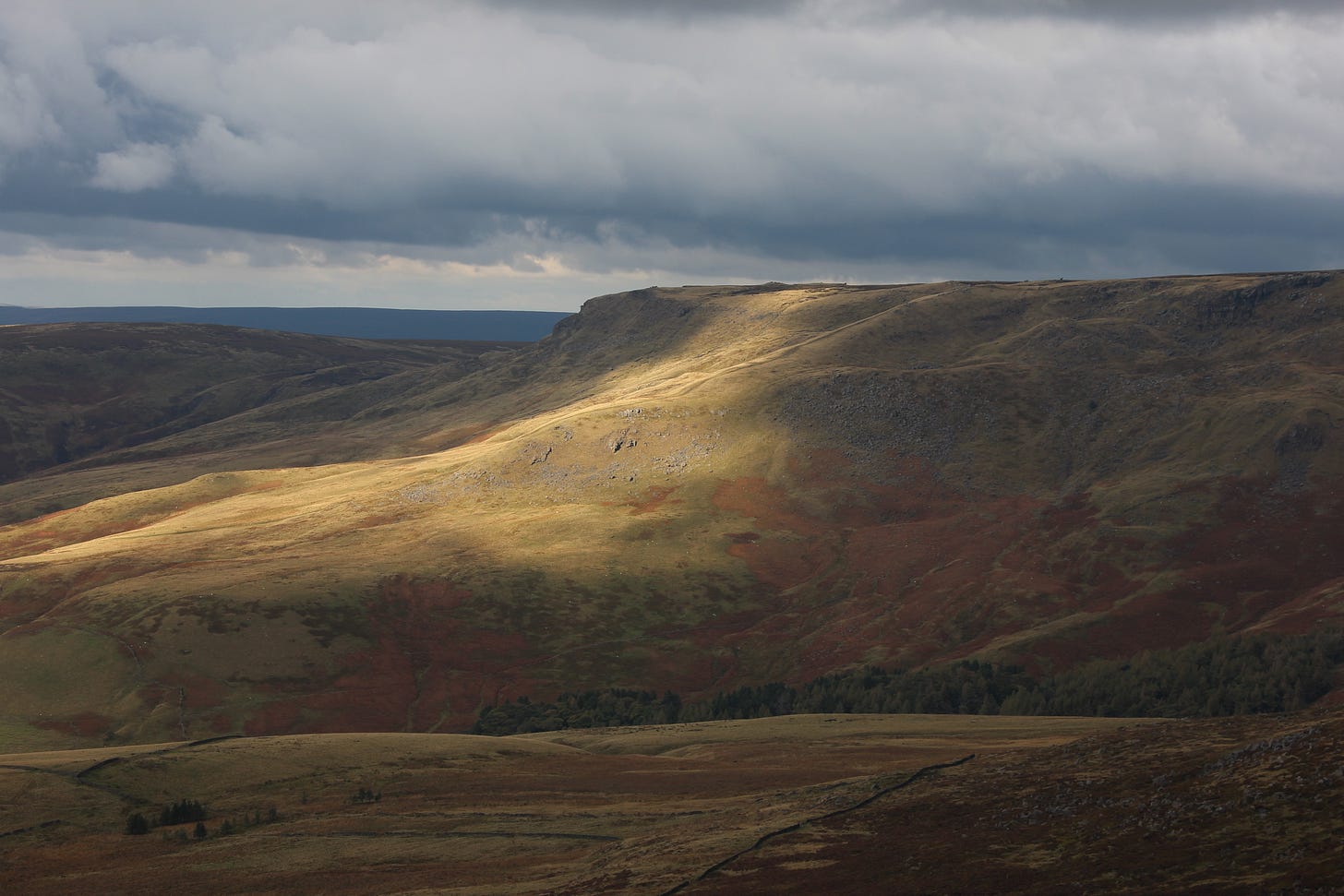 I had been thinking about heading down to Kinder Reservoir, but Kinderlow Cavern called out to me as I studied the map. I decided to hike up Kinderlow End which is a brilliant short, steep hike to the top. I didn't do it all in one go as I stopped to take loads of pictures. This is the view out towards Sandy Heys and William Clough which looked very dramatic in the beautiful autumn light. The cavern remains a mystery for now, but after some research I have a slightly clearer picture of where it might be.
We'd need at least half a day for this hike as a coaching session, but it would also work really well as a full day. It's a brand new one to add to my collection, and definitely a favourite of mine as the views are so varied and the steep hike up among the rocks is great fun, with plenty of places to sit and take it all in.
I usually charge £150 for a full day coaching session but if you're looking at that price in shock or horror, I do offer other options for people who are unemployed, having any money troubles, or if that amount isn't affordable for you for any reason - which you don't need to disclose. It's really important to me that money doesn't become a barrier to us working together when these outdoor coaching sessions appeal to you. So please, just send me an email and ask.
If you have any questions to ask me about my coaching work, or if you are interested in booking in a session together, please email sarah@sarahventurer.com and I'll get back to you as quick as I can. Please note that online sessions are also available.
---
About The Adventure Newsletter
Here's how you can support my newsletter:
Send me some love by tapping the grey heart icon to help improve my search rankings.

Email me your questions, comments, suggestions or requests to be featured: sarah@sarahventurer.com

Share with other people who are thinking or talking about career change.

Buy me a coffee, and even better - invite me sarah@sarahventurer.com for a virtual brew!

Let me know what's happening for you right now - is there anything that I can help you with, or anything you'd like to share in confidence?
---
Thank you so much for reading my newsletter. In podcast news, I have recorded a new episode this week here in Edale and with a slightly different format. My guest is also my new podcast editor - I can't wait to share it next week!