Discover more from About The Adventure
The newsletter that starts with a question - to encourage a creative, adventurous approach to career change.
Career change - what's gonna happen if you don't make a start?
The newsletter that starts with a question
Welcome to the sixth issue of About The Adventure newsletter! I'm very excited to send you brand new content this week, including a career change interview on my blog and a freshly published podcast episode. But first, let's get to the next coaching question. When we've completed a round of seven questions in total, I'll start afresh with a new set. Here's the first list so far:
"What's critical to resolve right now?"

"What impact is this having on your life?"

"What do you know you've been doing that's prevented you from resolving this?"

"What's this cost you in the past?"

"What's the impact now?"
To follow on from these, my next question for you is:
What's going to happen in the future if you don't get this resolved?
Of course these questions don't just relate to changing career, is there another area of your life that you need to focus on first? These questions formed part of my training when I did my coaching course, and by asking myself these I realised that I needed to look at my health, home and relationships before I could find the energy to focus on my career change. What's coming up for you? As always, you are very welcome to share by emailing me: sarah@sarahventurer.com
This list of questions can be used on a frequent basis, as a way of bringing focus to the challenge that needs to be resolved before anything else. I come back to them time and time again, it's a great coaching tool that you can use for writing or in conversation with someone you feel comfortable with.
If you're not yet subscribed and you'd like to receive more questions like these, please enter your email address below.
---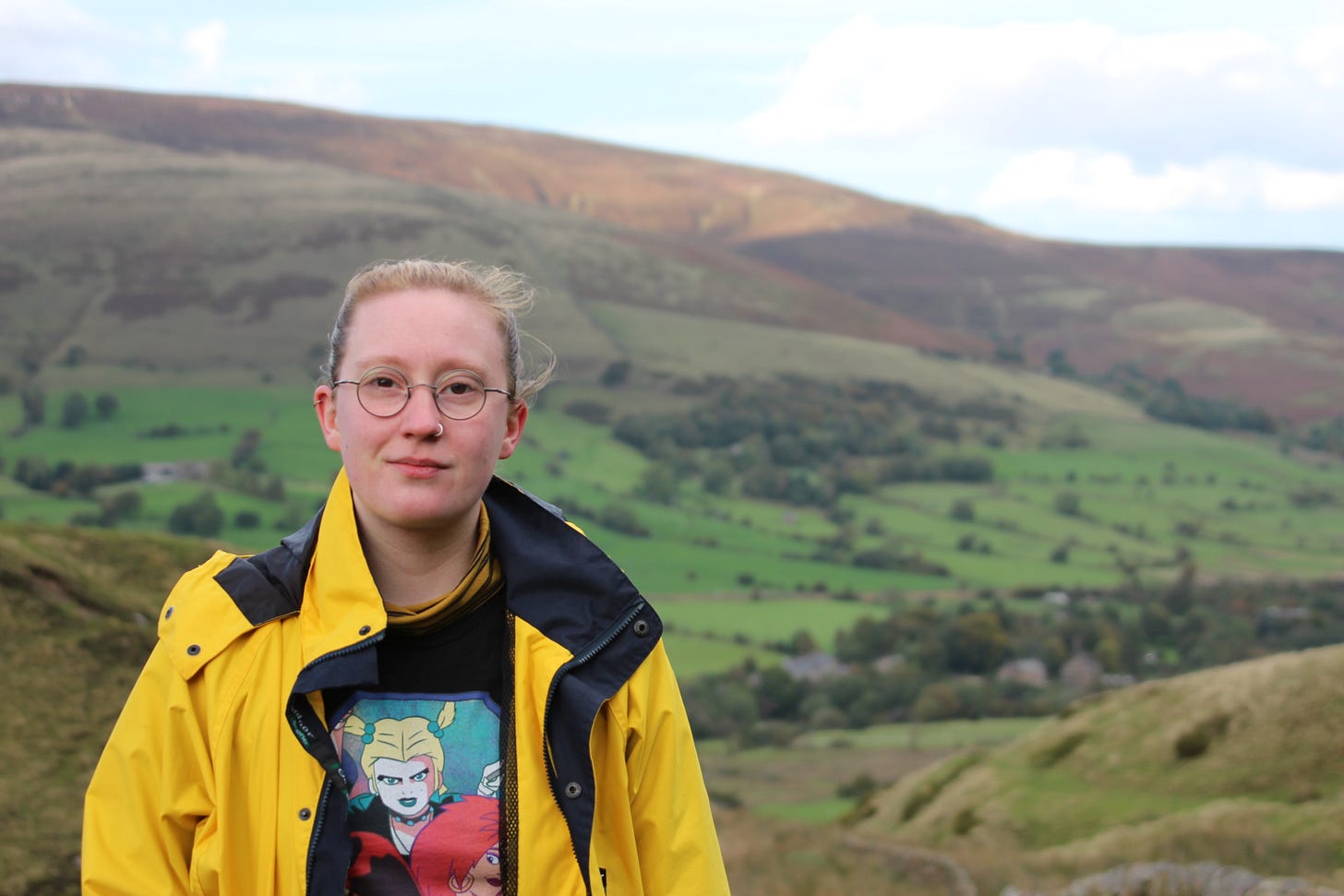 "Being kind is the best way to find work"
Episode five of About The Adventure podcast is an interview with Gabby Wolstenholme - by boyfriend's sister who also lives here in Edale. Gabby has been helping me to do some test recordings with my new podcast setup, and is also now editor of my podcast! It's so great to work together and I know that Gabby will help me to improve the quality because she's great at giving me feedback and offering new ideas. She has a variety of other work in the village which includes serving customers in the local shop and supporting outdoor lifestyle brand Jam Cycling.
I asked Gabby to be a guest on the show because of her unconventional route to finding new work opportunities. Rather than spending months sending off job applications and curating a CV, she has been offered new opportunities by meeting people and being open to work. As a recent graduate, I also wanted to capture her perspective on University life and how important she thinks it is to get a degree.
I think that this episode will be of particular interest to people who are thinking about going to University, to parents who are talking to their children about University and work options for the future, to anyone looking for a different approach to finding interesting work opportunities, and to students who are worried about entering the world of work or who are feeling directionless.
Click here to tune in right away, or read my blog post and the list of questions that I asked during our interview. It's great to be back with the show and I'm planning more episodes as I type. You may notice a bit of wind blowing into the mics during this episode so next time I'll choose a more sheltered spot to record. If you have any suggestions or feedback please do send them my way: sarah@sarahventurer.com
---
How to get involved with this newsletter
As well as sending you questions and content, I'm thinking of ways to make this newsletter interactive with readers and subscribers. Have you got a career change story to share? Or do you know somebody else who has?
Ask me if you can be interviewed on my career change blog

Suggest people who you'd like to see on my blog or hear on my podcast

Send me your questions that you'd like to ask for an online discussion, to put to my guests, or topics for me to write about as a blog post

Let me know what you need right now - is it a powerful question, a friendly chat, a coaching session, a refreshing hike, or something else?
You can email me: sarah@sarahventurer.com or leave a comment.
---
Interview feature
This week I posted a brand new blog interview with Charlotte Holroyd who had quite a varied career path before creating her own branding and design business - Creative Wilderness. Charlotte is really passionate about sustainability and being as ethical as she can in her business. She works with businesses who are making a positive contribution to the world and suggests sustainable brand experience items to her clients. Alongside working with clients, Charlotte is also working on developing a new "Brand Builder" course which will bring her more freedom to spend time outside in nature and to go on adventures in Autumn the VW camper.
"One thing I learnt last year was that I had to listen to my body and inner voice and rhythms when running my business otherwise my creativity diminishes and everything loses its spark."
I asked Charlotte why she decided to start her own business, how she figured out what she wanted to do and if that's changed over time, what things she continues to find challenging, when spending time outdoors became important to her, where the idea come from to run monthly business support sessions for conscious entrepreneurs, and much more! At the end, she asks you a couple of questions to take away and think about.
---
Coaching walk of the week
Since moving to Edale I've been visiting a special tree each autumn. It's not far from the village but it's in a quiet spot, tucked behind the hills of the Great Ridge. I love the shape of it and the golden leaves at this time of year. The walk to approach it is wonderful too, a nice and steady uphill hike revealing an incredible view of rocky Back Tor. I went up there this week with a camera and a few snacks and spent about two hours taking photos of this tree.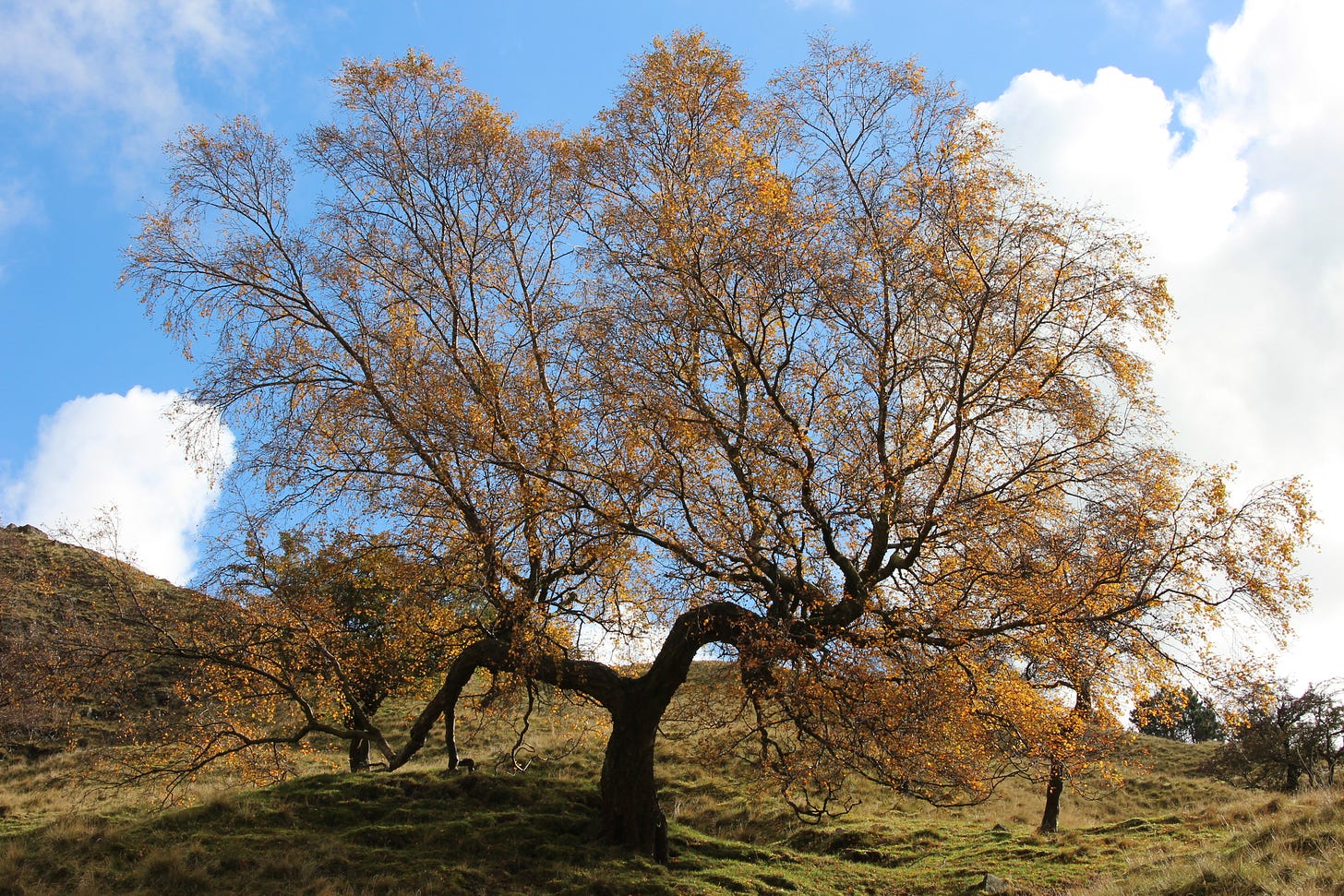 As a coaching session I would suggest two and a half hours for this one. We'd meet up in Edale village and hike up the hill at a nice steady pace while I ask you some opening questions. This week I discovered a nice flat patch of ground where we could sit for a while with a brew in fine weather and explore more questions together, with this tree in front of us and a fantastic view of the hills. Then we'd move on, along the Great Ridge and back into Edale via Hollins Cross or Mam Tor.
The tree is spectacular right now, so I'd highly recommend this one for an October coaching session. I usually charge £65 for a walking session like this, with other options available if this is too expensive for you. We'd take it at a pace that suits you, with the focus on our conversation rather than a marching hike - unless of course that's what you feel you most need. My bookings are always flexible too, so if you need to change it for any reason there are no extra charges. If you'd like a chat on the phone first, or to ask me any questions, you can email me: sarah@sarahventurer.com
Please note that there is also the option to book an online coaching session, or a phonecall which you can take outside for a walk in your local area. I know that long-distance travel isn't ideal at the moment so I'm happy to do whatever you think is best.
---
About The Adventure Newsletter
Here's how you can support my newsletter and get involved:
Send me some love by tapping the grey heart icon to help improve my search rankings.

Email me your questions, comments, suggestions or requests to be featured: sarah@sarahventurer.com

Share with other people who are thinking or talking about career change.

Subscribe to my podcast and contribute a review.

Buy me a coffee, and even better - invite me sarah@sarahventurer.com for a virtual brew!
Thank you so much for reading my newsletter, I get so excited about putting it together and sending it out to you. It's also really motivating me to put new content together and to improve my photography. I'm sending it out a little later than usual this week but it will hopefully bring some inspiration to your inbox this weekend.