Discover more from About The Adventure
The newsletter that starts with a question - to encourage a creative, adventurous approach to career change.
Career change - where to begin?
The newsletter that starts with a question
About The Adventure newsletter invites you to take an active approach to career change by answering coaching questions, participating in discussions, listening to podcasts and reading interviews that end with a question from my guests instead of advice.
Each week I will ask you an open question to think and write about. In the first issue I asked "What's critical to resolve right now?" and to follow on from that this week I'm asking you:
What impact is this having on your life?
This question aims to draw out the emotional frustrations or reactions that you are experiencing as a result of the issue that needs resolving. If at first you only have a couple of thoughts or sentences on this question, what happens if you dig deeper under the surface? What impact is this really having on your life?
If you'd like to share your scribbles with me then please email sarah@sarahventurer.com and if you'd like more questions ahead of next week's newsletter then let me know and I'll come up with a personalised one just for you!
If you get stuck with your response to any of these questions then where do you think might be a place to contemplate, write or to talk with a fresh perspective?
---
What's your view on career coaching?
I'm interested in your opinion because I'm working towards making it more accessible for people, so that it doesn't require taking out a loan or signing up to long-term payment plans. Does it seem like coaching is only aimed towards particular professions or people on high salaries? Does it feel like it's accessible or out of reach for you? Here's an invitation to join in the open discussion and to see other people's comments, with more on LinkedIn too. If you'd prefer not to share on a public platform then you can email me instead.
---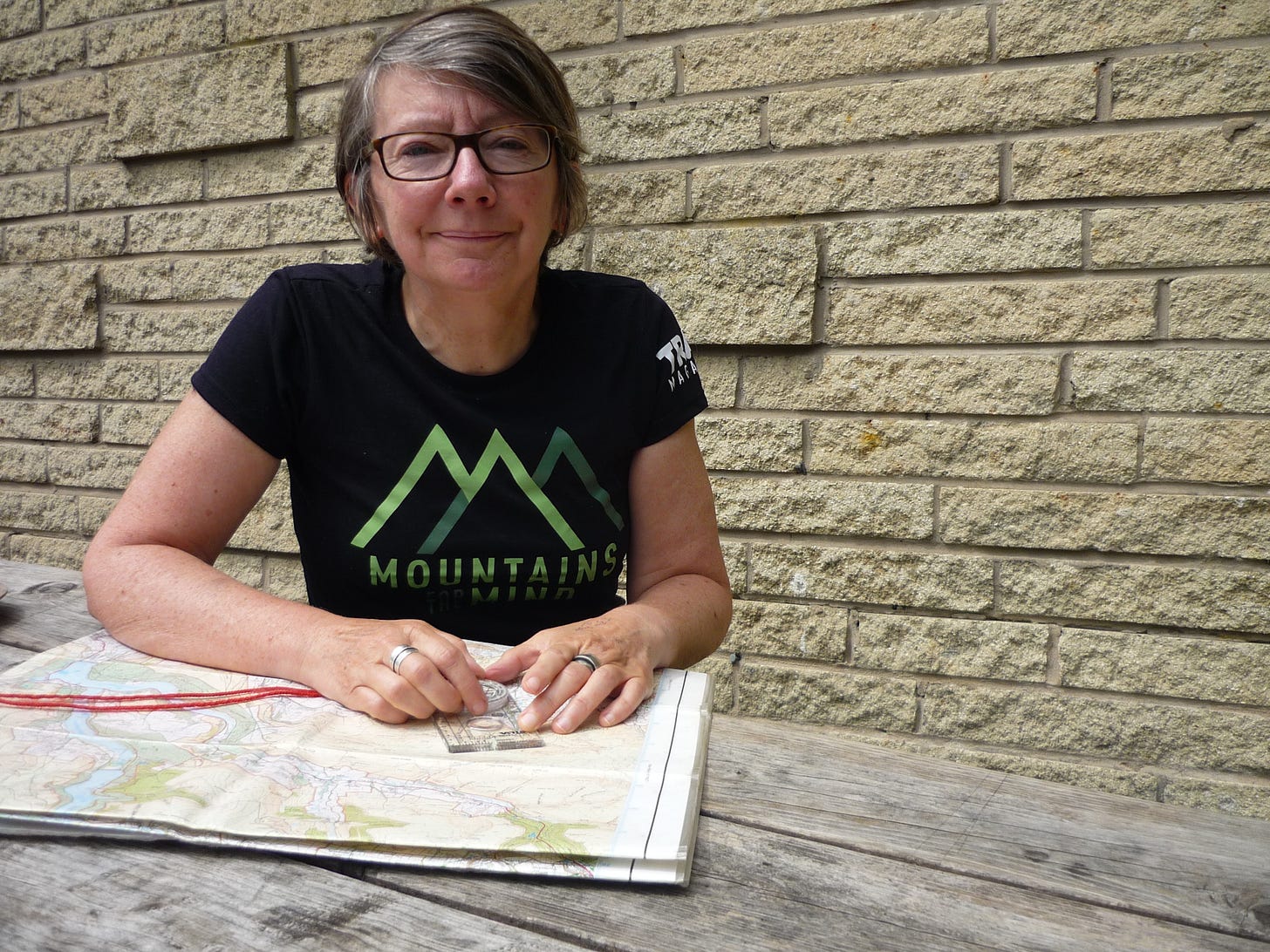 Navigating career change as a Mountain Leader
In my first ever episode of About The Adventure Podcast I interviewed my friend and navigation teacher Clare Kelly who started her own women's walking company, Her on a Hill, in Spring 2019. Clare's story fascinates me because it was a trek in Nepal that inspired her to turn things around from managing a book shop in London to taking people on walking holidays and teaching navigation skills. It hasn't been a sudden transition for Clare as she's worked for other travel and walking companies before creating her own.
What I really love about this interview is that Clare doesn't just shout take the leap and see what happens. She talks about the challenges that she has faced along the way and how walking has become a really integral part of her life as well as her business.
You can read more about the episode in my blog post and tune in via this snazzy link that gives you options to listen on your favourite app. Or you can head to my website to listen as well.
I have recorded and published four podcast episodes so far, which I'll be sharing here until I have new episodes recorded with my new digital gear. If you have comments, suggestions or requests then please send them my way: sarah@sarahventurer.com
Find out why I started this podcast in the first issue of my newsletter.
---
Interview feature
What stops you from scrolling past a post on social media? A Sheffield-based photographer has been consistently capturing my attention on LinkedIn over recent weeks. How does Doug Banks do it? I think his approach to talking about his work is really unique. Instead of just posting about what he does, his focus is on asking questions, sharing stories, and encouraging people to express themselves. I also find his photography really eye-catching. So instead of scrolling on by, I invited Doug for a virtual brew and a quick interview for my blog.
"I think sometimes businesses maybe focus too much on the vanity metrics of social media, when developing more high quality relationships to build the whole know, like and trust element could be a more effective method, especially when first starting out." Doug Banks
Read on to find out where Doug's interest in photography began, how he's improved his skills, what approach he takes to find new work, and at the end he asks you a question to think about.
The aim of these interviews is to share a range of unique careers with a snapshot of the stories behind them, and to show the variety of ways that people work. If you have a story to share, or if you'd like to recommend somebody to invite, your suggestions will be warmly welcomed. Just drop me an email with your idea.
---
Inviting you to take an active approach to your career change
Have you been…
scrolling jobs online?

absorbing advice?

hoping the right thing will come along?
It looks active but can feel passive as the months and years roll on by. If you want to really get the ball moving towards a new career then please subscribe to my newsletter.
Receive & respond to a coaching question each week plus a summary of my podcast and blog content to get you thinking about your own career change.

Become part of a new community that focuses on creativity and adventure as an approach towards career change.

Take part in my newsletter by joining discussions, responding to questions, or ask me for a virtual brew.

---

Coaching walk of the week

On Tuesday morning I packed up some lunch with a flask of tea and headed over to Crowden Clough from my home in Edale, a beautiful Peak District village that leads up to the Great Ridge and Kinder Scout. Now, this really is a fantastic hike because there are far-reaching views over the start of the Pennine Way, peaceful woodlands full of wildlife, flowing waterfalls (after all that rain!), an incredible abundance of purple heather (not for much longer now that it's September), and plenty of options for a longer distance hike too.

I am borrowing a camera from an amazing photographer who lives in the village, so hopefully you will see some improvements in my photography in each issue of my newsletter as he is also offering me his guidance and tips. I took a lot of photos on Tuesday and this was my favourite because it was the first time that I'd noticed this tree in it's full summer-time glory. This would be a wonderful spot to sit during a coaching session on a sunny day!

After taking at least 20 photos I moved on to another great spot for lunch, right next to a waterfall in full flow. Once I'd eaten my lunch I couldn't resist dipping my toes in the water before enjoying my flask of tea. I definitely need to work on my waterfall photography - I'll focus on that for this month. All the gear and no idea!

As a coaching session this walk works really well for 2.5 hours but can be stretched out for a longer distance that goes right to the top of Kinder Scout. We would usually walk for 30-45 minutes, take a rest for some more focused questions under the tree or by the waterfall, then start to make our way back around to Edale via a woodland, followed by open fields with great views of the Hope Valley.

A coaching session like this is £65 at full price, with other options available for people who are not working at the moment, have financial worries, or can not afford it for whatever reason. You do no have to disclose the reason, just ask and we'll make it happen. If you can't make it to Edale then you can also request an online session for £25 or another amount that is affordable for you.

If you have any questions to ask me about my coaching work, or if you are interested in booking in a session together, please email sarah@sarahventurer.com and I'll get back to you as quick as I can.

---

About The Adventure Newsletter

Here's how you can support my newsletter and get involved:

Send me some love by tapping the grey heart icon to help improve my search rankings.

Email me your questions, comments, suggestions or requests to be featured: sarah@sarahventurer.com

Share with other people who are thinking or talking about career change.

Buy me a coffee, and even better - invite me sarah@sarahventurer.com for a virtual brew!

---

Thanks to everyone who has subscribed to my newsletter! Each one of you encourages me to keep going with this idea, to create new content, and to commit to my work. Thanks a million! If you'd like to share what you think about this newsletter, contribute an idea that would personally help you, or to let me know why you've subscribed then please do leave a comment. Until next week!